Germany is a country known for its rich heritage, scenic landscapes and historical landmarks, but if you're looking for more adventure and something that will give you an adrenaline rush, there are several options available. Rest assured, any of these is sure to satisfy the cravings of the adventure seeker in you.
Race at the Nurburgring
To be more specific, you can hitch a ride in one of those BMW M3 "Ring Taxis" and join a professional race driver for a spin in the Nordschleife's F1 track in the Nurburgring. These are available from April to October, so if you've always wondered what it's like to race on a Formula 1 track, here's your chance.
Paragliding over Neuschwanstein Castle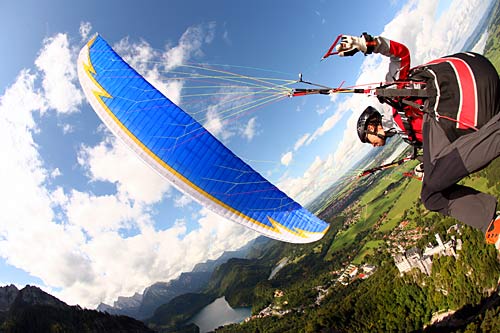 There are many places in Germany, where you can go Paragliding, but really, there's no better spot to do it than over the famous Neuschwanstein Castle. Several castles abound in Europe, but few can compare with the Neuschwanstein Castle, and viewing it while Paragliding is something to be experienced.
Rock Climbing
Southern Bavaria is home to the majestic Alps, and the scenic view and rugged terrain make it the ideal destination for rock climbers eager to explore new horizons. While the Alps is a great mountaineering challenge, it isn't the only one as there are several ascents that you can try, particularly those in the Black Forest and Rhine-Main regions.  The best time to go rock and mountain climbing is the summer as you'll get to see nature in all her glory, but if you're up to the challenge, try rock climbing in the winter.
Skydiving
There's a lot to see in Germany, and one of the best ways to take it all in is by skydiving at 13,000 ft. Really, you can skydive anywhere in the country, but many prefer the northern and central regions, because the flat surface makes for safer landings.
Trekking in the Mountains
Germany is renowned for its lush natural scenery, and one of the best – and most challenging – ways to see them is by trekking the rural expanses all over the country. Southern Germany in particular is the perfect hiking destination with the Bavarian mountains serving as your backdrop.
Take Part in the Office Chair Race
Since you spend a lot of your time sitting in an office chair, why not race on it? The Office Chair Racing Championship takes place in the popular resort town of Bad Koening. You can join the fifty participants as they race on chairs downhill while going through the obstacles. This sounds like a lot of fun and it is, but make no mistake about it, this is a challenging race as it stretches for 200 meters with speeds up to 35 kilometers per hour.
While you're planning your adventure in Germany, you should consider getting extreme activities travel insurance. Even if you have had years of experience, getting extreme activities, travel insurance still makes a lot of sense because accidents can (and do) happen. Before you purchase one, read the fine print so you know what's covered and what's not included in the policy.