Gangotri is a revered pilgrimage destination in Uttarakhand Uttarkashi district. It has a shrine built in honor of Goddess Ganga, the mother goddess whose sacred waters is believed to have all powers to wash away sins. The temple of Goddess Ganga stands along River Bhagirathi; the other name for Ganges. Gangotri pilgrimage makes a part of the much sought-after & challenging Chota Chardham Yatra. If you have plans to embark on Gangotri pilgrimage soon, the given travel guide would surely come handy: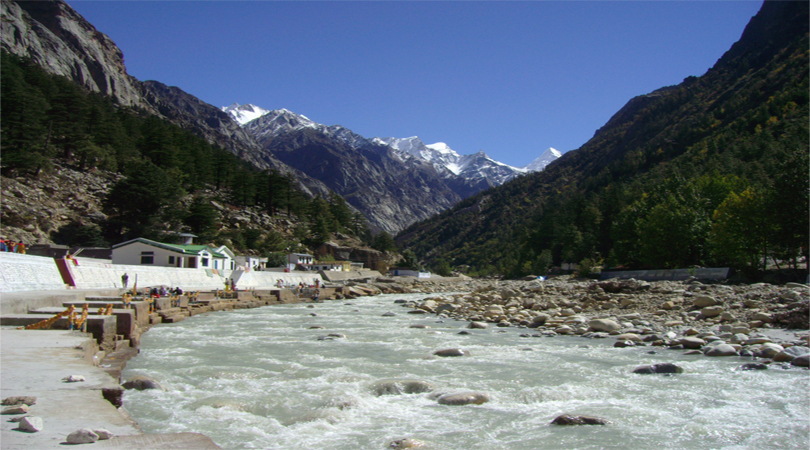 How to reach
Gangotri is connected to all major destinations of Uttarakhand via well developed motor-able roads. You can take a flight to Dehradun Jolly Grant airport, 250kms away from Gangotri and then complete the rest of the journey by means of road transport. Even helicopter services to Gangotri are available from Dehradun. Rishikesh, about 234kms away from Gangotri is the nearest rail station. You can make a train journey to Rishikesh from any part of the country and then complete the rest of the journey via road route. Also, buses and taxis to Gangotri are available from almost all major cities of Uttarakhand. Regular buses run between Delhi and Rishikesh and can be availed from ISBT Kashmir gate. Thus, reaching Gangotri by road isn't a hassle too.
When to Visit
You could visit Gangotri around months April-May as the weather during that time remains most travel-worthy. It is pleasantly cool during that time. During day time there is bright sunshine though the nights may be significantly cold. The months of June, July and first half of August needs to be avoided as during that time monsoons strike Uttarakhand and frequent downpours impede travel and make roads perilous and the area landslide prone. Beyond the month of October too, journey becomes difficult as temperature starts dropping sharply and soon the region gets clad in thick sheets of ice and remains the same until February
Where to stay
You can get accommodation options such as hotels, Dharamshala, tourist rest houses, camps to stay at Gangotri. There are many budget hotels in Gangotri that allow an affordable stay. GMVN tourist rest houses, camps and Dharamshala too offer decent facilities against a nominal rate
Temple Puja Timings
The temple opens at 6.15 am in the morning and shuts down at 2pm. Again in the evening temple opens at 3pm and shuts down at 9.30pm. During these opening hours all Puja and ceremonies are performed.
What to Eat
You have to stick to pure vegetarian dishes while on your Gangotri trip as non Veg food items are strictly prohibited in that area. You can get traditional Garhwali Thali, snacks and khichdi in the roadside Dhabas, restaurants and street food corners but all food items made here are purely vegetarian.
What are the places to see around?
Apart from the main shrine of Goddess Ganga, Gangotri has other visit-able places too. The other places to see around Gangotri are-
Bhagirathi Shila
This is a stone placed near the shrine of Ganga Devi.  The stone slab is said to be the slab sitting on which king Bhagiratha had carried out his austere penance to please goddess Ganga
Jalmagna Shiv Ling
This is an immersed natural Shivling that remains under waters most of the time. It is said that this Shivling denotes the presence of lord Shiva who at that place had received Goddess Ganga on his dense, matted locks
Pandav Gufa
This is an ancient cave where Pandavas are said to have spend days in meditation in the course of their journey to Kailash. 1.5kms of trek from Gangotri can make you reach this cave.